FOQA - FDM Vortex 2.0

Your flight visualization tool, on PC, MAC, Tablets.
Data flights archiving, event detection, pilot reports, analyzed flight data and visualization cockpit instruments, maps, trajectories ...

Read more

FOQA - Personnal performance

This service helps your pilots
to know better,
and therefore increases the safety of your flights.

Read more

Maintenance - Readout SSFDR

With our Flight Data Monitoring Experience,
we offer the checking parameters
of your SSFDR.

Read more
Experience makes the difference !
For several years French Flight Safety benefitted large international airline expertise on flight safety. The flight analysis is a tool for security and the overall performance of your company in fields as varied as the training of crews, fuel savings, or maintenance of your aircraft. Your goals are ours.
FLIGHT DATA MONITORING

Dialogue with Pilots

From the creation of our company we have implemented the feedback. Since 2005, our customers can provide access to flights to stimulate feedback on the detected events.

RISK FATIGUE

Tools for operator decision

Aid decision for planning to ensure the level of performance of your pilots.

CUSTOM DEVELOPMENT

Online Softwares

We develop all our applications internally, this allows us to make custom developments. Each customer can choose the options and features tailored to their needs.
Vortex for Pilots
News for 2015, our tool 'Vortex 2.0' is accessible by each pilot. Indeed, it is no longer necessary to send a request to the pilot. Now, the pilot has access to all of these flights. He can see the detected events, but also customized statistics
Visualization

The pilot can visualize all these flights with cockpit instruments, horizontal trajectory, vertical trajectory, 3D trajectory... It's possible to replay the flight.

Statistics

The safety manager chooses the statistics that appear in the pilot profile

Confidential Reporting

It is a place of communication with the safety manager
Read more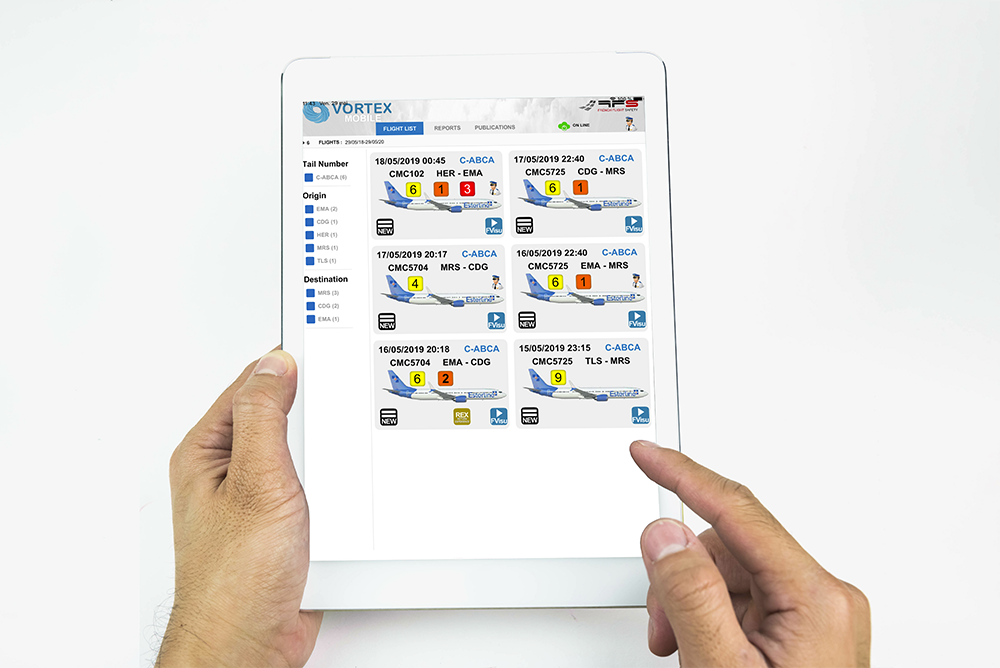 355066

Analysed flights

3281

Confidential Reports

13

Number of aircraft type

51

Number of analysed aircraft
Florent Bonnevie
CEO FFS

With over 10 years of experience in the flight data monitoring and IT development, our listening, toughness and expertise in aviation project and to accompany you to maintain an excellent level of safety.